Foundation's 92nd Center Opening & Workshops - Singapore
Image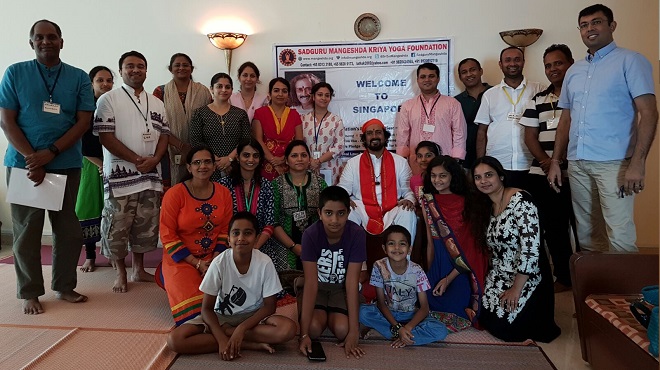 The day began with the formal inauguration of the Sadguru Mangeshda Kriya Yoga Foundation's 92nd centre in Singapore on 8th Oct 2016. H.H.Sadguru Yogiraj Sri Sri Mangeshda lit the lamp and declared the centre open invoking the blessings of Param Guru Mahavtar Sri Sri Babaji.
The opening of the centre was streamed live and viewed by Foundation members across the globe.
A brief introduction of Sadguruji and the Foundation to the participants followed.
Sadguruji then commenced the Kriya Dhyan Yoga session, a specially designed meditation session. The session had many eager participants who had been waiting with bated breath for the Master and were interacting with him for the first time. The session lasted over 4 hours (overshooting the time limit) with the participants clamouring for more. Sadguruji in his simple but masterly manner guided the participants into the mystic world of meditation. The session left the participants elated and yearning for more.
The meditation session was followed by a Satsang in the evening. Sadguruji spoke about the importance of Navratri, its spiritual significance and the relevance of the festival. Participants sung beautiful devotional songs which were very well appreciated by Sadguruji. It was a mesmerizing evening with pearls of wisdom from the Master leaving everyone spellbound.
Image