Gudhi Padwa - Kriya Yoga Diksha & Mahasatsang
Image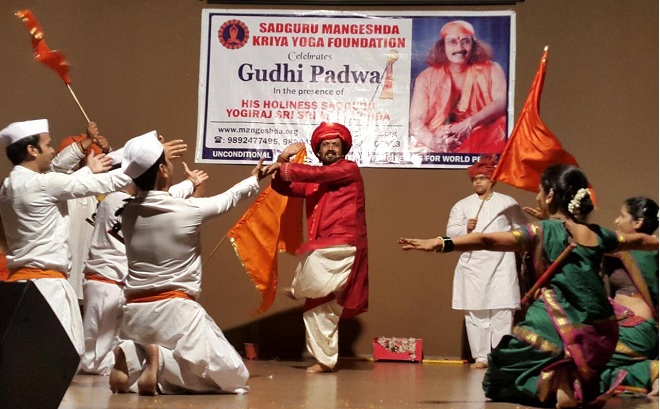 As narrated by Kriyaban Shri Hrishikesh Ambaye
The Festival of Gudhi Padwa brings immense joy for many as it is the New Year for millions of Indians. It is the first day of Chaitra month that marks the beginning of the New Year according to Hindu calendar. It has many names such as Samvatsar Padvo, Yugadi (in Karnataka), Ugadi(in Andhra Pradesh), Cheti Chand (by Sindhis), Rongali Bihu (in Assam)and Navreh (by Kashmiri Pandits).
Our Foundation always celebrates this pious day with great zeal and this year's celebration was no exception. Rather, this was one of the best celebrations of the NEW YEAR.
The auspicious day started with Kriya Diksha Havan at our Juhu Centre. 'Mangalya Pratik Gudhi' was hoisted by Param Pujya Sadguru Yogiraj Sri Sri Mangeshda. Sadguruji bestowed pious Kriya Diksha to a few lucky spiritual aspirants. We welcome all the new Kriyabans in this lovely global family of Sadguruji. After the kriya diksha, the morning session ended with soulful, melodious bhajans and prasad distribution. Everyone was eagerly waiting for the evening programme of Mahasatsang at Mayor's Hall, Andheri, Mumbai.
Param Pujya Sadguruji was received in a traditional way and with enthusiasm. A LEZIM team was ready to welcome Him when He arrived at the hall. The atmosphere was full of joy and positive vibrations…. people had gathered in traditional and colourful costumes. The mood was very festive and awesome. Sadguruji was welcomed with the traditional Arati. HE performed Guru Pujan and blessed all present with his AASHIRVAAD!
The concept this time for GUDHI PADWA celebrations was "Unity In Diversity" and showcasing the diverse and rich traditions of India. It was a unique concept. The bhajan mandali presented various bhajans from various styles of singing… be it a traditional bhajan or a sufi song. The team consisting of Archana, Sandip Pandya, Sandeep Yederi, Sanjay, Adarsh, Ashish, Rajeev did a stupendous job. Add to it the music arrangement was totally in-house i.e. the music was taken care by the Foundations Team itself and various variety of instruments were used.
Much more surprises were in store. The melodious bhajans were followed by some graceful dance performances again depicting the dance culture practised in various states of our Bharat Mata covering East, West, North & South. As they say, a picture speaks a thousand words. Kindly have a look at the photos and you will get the idea. The message was clear: Anekata me Ekata. We may be diverse, but the beautiful culture & values of this Country brings us, binds us together. The Art and Cultural Wing of the Foundation put up a great show and aptly concluded with 'Mile Sur Mera Tumhara to Sur bane Hamara." And when we have our Sadguruji's grace…. kya kehana?
Revered Sadguruji was felicitated by Kriyaban Madhumalati Talgeri & Kriyaban Shreejaya Hattangadi. It was a case of double celebration for us as revered Sadguruji was honoured with 'JEWEL OF INDIA' award by International Institute of Education and Management, in New Delhi, a couple of days ago for his valuable contribution to society and for practise and spread of Yoga for more than 45 years. Sadguruji happily shared his experience and the memento with us. There was thunderous applause from the audience. Hearty Congratulations Sadguruji! and wishing you more laurels.
Then arrived the moment which everyone was waiting for – Param Pujya Sadguruji's Aashirvachan! In HIS mesmerizing speech, HE talked about the significance of Gudhi Padwa (known by different names in the various parts of India), the importance of positivity & enthusiasm. He explained about 'Faith' and 'Blind Faith' and how he always opposed and rebelled against Blind Faith and superstitions. He cited some experiences from his current visit to the holy places and what we should learn from it. He also instilled and reinforced in everyone the spirit of patriotism and proud to be an INDIAN.
As with every year on this auspicious day, Sadguruji undertakes a 'Sankalpa', an oath, pledge, He declared a very ambitious sankalpa of "Organ Donation". He said that the project of Eye Pledge We Pledge was a big achievement for the Foundation and it has created a lot of awareness in the society. Similarly the project of "ORGAN DONATION" should now be implemented. Just like 'Eye Donation', organ donation was the need of the hour and a massive awareness needs to be created for this concept. He said that He will soon come out with the details of the same. His announcement was greeted with thunderous applause… a sign of great support for this New Year Sankalpa. The sankalpa was also made in a special way. All the members in the audience were given a unique lamp. All the lights in the auditorium were switched off and as soon as Sadguruji lit his lamp, everyone lit their lamps and the entire auditorium was bathed in this wonderful glow. Sadguruji mentioned that the importance of light can only be felt when there is darkness, hence our organ donation will go a long way in helping the needy. There are millions of people waiting for an organ donation and hence instead of burning, cremating our bodies, if our family members can help in donating our organs after our death, we would have accomplished our mission in this lifetime.
Everyone was connected to Sadguruji's source of light and promised not just to participate in this sankalpa but also to spread it across all parts of India and the world. Words would not do justice to the divine experience we all felt. However photos will give some idea.
Sadguruji also appealed to all to be united! HE also connected to various relevant topics prevalent in the society today. As always, the audience felt that His Aashirvachan should go on & on
Heeraji's lucid "Nivedan" was very apt and she really anchored the evening very well! Sadguruji appreciated the efforts of all the performers. He also applauded the enthusiasm of all the participants. He said wherever there is Energy & Enthusiasm, dullness and darkness can never come.
A special set of DVDs & Audio CDs were also released of HIS Amritwani on this occasion. One more New Year gift from HIM to all of us. Kudos to Rajeev & Suhas Patil for their herculean efforts.
All in all, a wonderful evening. New Year could not have started on a better note. It was an evening to cherish for a long time.
The Mahasatsang concluded with Vote of Thanks by Prakash Irde, Hon Secretary of the Foundation.
Thanks to the untiring efforts of all the volunteers for this beautiful programme. Special mention is must of Rajeev Raval who worked on a beautiful theme & executed it so well.
The concept of various dance presentation by various Upasana Centres was amazing. The prasadam was sponsored by Juhu Centre.
Kudos to all involved for making this a grand show. And we all join together & offer our humble gratitude to Sadguru Devata for giving us such lovely moments and also a new target to work on.
Pranams Sadguruji. We all are truly blessed and fortunate. Jai ho. Jai Gurudev.