Special Kriya Yoga Session for Harvard University Students
Image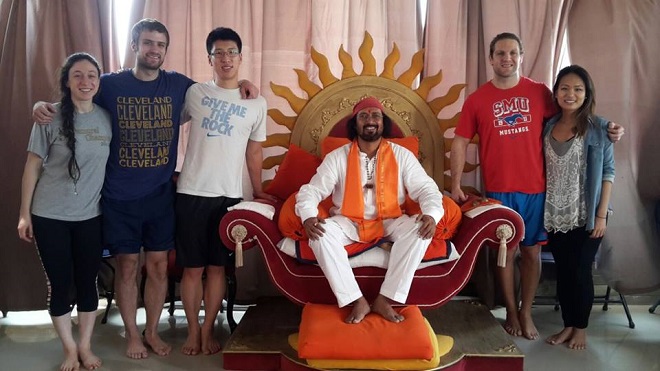 Incredible India: Today (8th Jan 2016), a few students from one of the top ranked universities in the world, Harvard University, on an International study tour, got an experience of India first hand. They had a good fortune to learn the ancient Indian science of Yoga.
They were more fortunate as the Master, His Holiness Sadguru Yogiraj Sri Sri Mangeshda, Himself was training them into these beautiful world famous techniques. It was the climax of their study tour and they were absolutely ecstatic to listen and learn from Sadguruji.
They took home a rich experience of Asanas, pranayamas and dhyan techniques and were amazed by the versatility of the Master. The Master patiently answered their numerous queries to their satisfaction. When it was time to depart, they wouldn't budge and it was an emotional goodbye with a commitment to regularly practice and be fit.
It will be right to say at this moment that we are all so proud of our Sadguruji as His dedication to spread Yoga to the world knows no boundaries and limits. Inspite of His busy schedule, He managed to squeeze in the time and spread the joy to the International students.
Feedback from students:
"
I participated in yoga and meditation with Sadguru on Friday 8 January with my fellow Harvard Business School classmates. I must say, it was the most pleasant experience! It was absolutely amazing how someone opened up their private residence to all 5 of us where we were given our own private session. Every thing about the experience was an absolute joy. I was amazed with how welcoming everyone was; they even shared tea and biscuits with us afterwards!
I unfortunately felt under the weather that day, but the poses and the meditation helped to increase blood flow and calm my emotions. It absolutely had a healing effect. The private session was amazing as it overlooked the ocean. The sound of the waves and the cool sea breeze made the whole experience quite refreshing. It was a joyous experience, and I would love to take a class by Sadguru again.
~Tom Dunn
"
Dear Sadguru Mangeshda Kriya Yoga Foundation,
On behalf of my classmates, I would like to thank you for making time to host a Kriya yoga and meditation session for us. It was a fantastic and memorable experience and we all got a lot out of it! We thought the session was really well taught and had a great variety postures and techniques. We also greatly appreciated the amount of hands-on guidance we got from Sadguruji Mangeshda himself!
~Yun Yu