State Level Yoga Competition
Image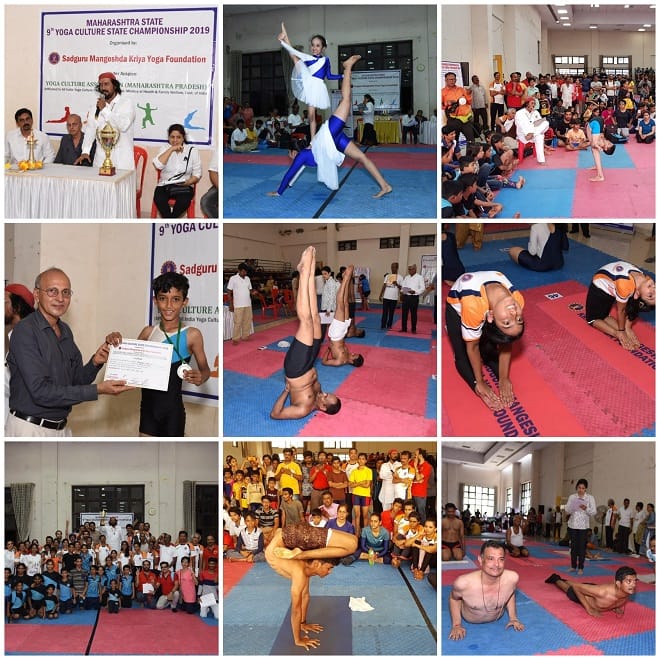 The Maharashtra State level Yogasana competition organised by Sadguru Mangeshda Kriya Yoga Foundation at BKC, Mumbai (under auspices of Maharashtra Yoga and Cultural Foundation) was a well organised and successful event. Participants from 24 districts of Maharashtra poured into the Mumbai venue to showcase their balancing, stretching and twisting skills of Traditional Yogasanas.
The inauguration was done by H.H. Sadguru Yogiraj Dr. Mangeshda along with Secretary and other officials of MYCF. As the yoga competitions get increasingly close and intense, Sadguruji trained the judges of this special event to eliminate bias and objectively give the marks. There were 16 categories age-wise from 6-10 years to 65 years and above in both boys/men and girls/ women. Excellent performances by all indicated the hard work put in by them throughout the years. The climax of the competition was the Rhythmic and Artistic yoga competition where we witnessed some of the graceful as well as most difficult asana performed. Sadguruji has been a Kathak dancer and has choreographed and performed at the Albert Hall London. He was the apt judge for this competition and encouraged all the participants for their wonderful show put on. All the winners will represent Maharashtra in the 32nd National Competition to be held in Hyderabad in September.
Sadguru Mangeshda Kriya Yoga Foundation won the award for maximum participants from one institute. The hard work put in by H.H. Sadguru Yogiraj Dr. Mangeshda bore fruits as 12 people from the Foundation were selected to represent Maharashtra in the National level competition. Almost 3-4 hours training sessions throughout last 6 months. Sadguruji was preparing the team at both mental and physical level as well as the Grace and minute details required to excel in the tough competition. With 51 years of Yoga practice and teaching experience, Sadguruji pushed the participants harder to get the best out of them.
The winners from SMKYF are:
6 to 10 Boys - Shubham Vadhavkar (2nd)
22 to 30 Men - Vijay Muniraja (5th)
22 to 30 Women - Disha Pathak (3rd)
30 to 40 Men - Pradeep Shetve (4th), Vishvprakash Medge (5th)
30 to 40 Women - Renu Khanchandani (1st), Spurthy Gadamsetty (5th) and Nidhi Pathak (6th)
40 to 50 Men - Anil Verma (6th)
50 to 65 Women - Asha Pathak (5th)
65 and above Men - Haresh Teckchandani (5th)
65 and above Women - Bhaktawar Merchant (2nd)
All the best to the winners for the Nationals.