Sadguruji invited as a Special Guest at Vigyan Bhavan, New Delhi
Image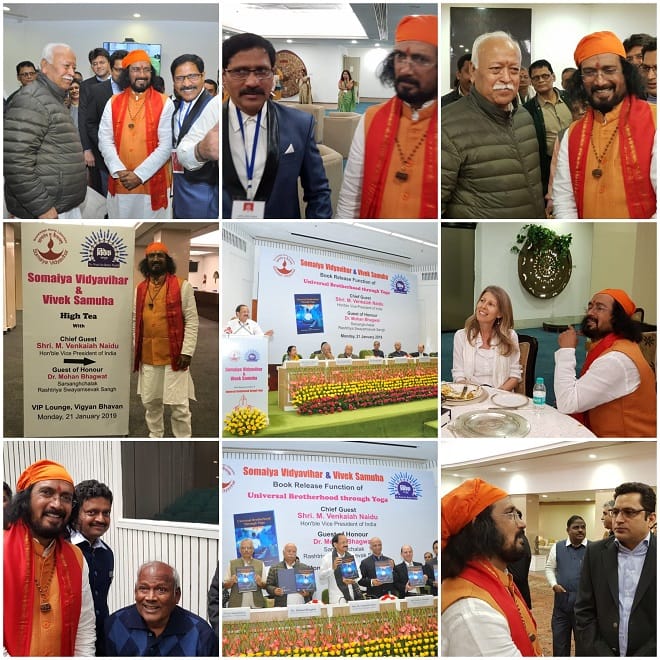 H.H. Sadguru Yogiraj Dr. Mangeshda was respectfully invited by Shri. Amol Pednekar (CEO- Hindi Vivek) as a Special Guest for the inaugural release of the book "Universal Brotherhood through Yoga" at Vigyan Bhavan, New Delhi in a magnificent event jointly organised by the two well-known institutions, the Vivek Samuh and Somaiya Group, on Monday 21st January 2019.
The Hon. Vice President of India Shri. M. Venkaiah Naidu, Chief Guest and Rashtriya Swayamsevak Sangh (RSS) Sarsanghchalak Shri. Mohan Bhagwat, Guest of Honour, graced this occasion along with Shri. Samir Somaiya (President - Somaiya Vidyavihar), Shri. Dilip Karambelkar (Managing Editor – Vivek Samuh), Smt. Kala Acharya (Co-Editor of the book) on the dais.
All the respected dignitaries and eminent guests present very keenly and enthusiastically interacted with H.H. Sadguru Yogiraj Dr. Mangeshda trying to gain a deeper insight into the various aspects of Kriya Yoga, his work and contribution to society and congratulated him for his fifty years of practicing Yoga as well as for the grand success of 'Eye Pledge We Pledge' crossing 52 lakh eye pledges.
Eminent personalities including intellectuals, writers, doctors and businessmen were present and had the golden opportunity of listening to some very enthralling speeches by both the above national leaders on the subject of Yoga and its growing importance in our lives today. Both the national leaders highlighted that Yoga alone could realise the dream of one unified global family leaving in peace & harmony which is true brotherhood.
This was like a reiteration of the philosophy 'Unconditional Love & Unconditional Forgiveness for World Peace' being preached & practiced by H.H. Sadguru Yogiraj Dr. Mangeshda for many years now.