Maharashtra Yoga Utsav 2017
Image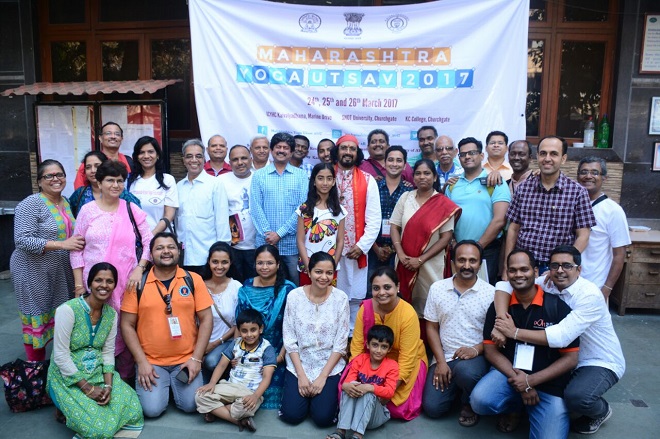 We have great pleasure in announcing that Sadguru Mangeshda Kriya Yoga Foundation (SMKYF) under the dynamic leadership, guidance and blessings of H.H. Dr. Sadguru Yogiraj Sri Sri Mangeshda, was a co-organiser of the recently concluded MAHARASHTRA YOGA UTSAV from 24th to 26th March'17. This event was organised by 'CCRYN' and 'AYUSH Ministry' with the help of leading Yoga Institutes based in Maharashtra, at various prominent places in Mumbai. The main aim of this Yoga Utsav was to unite all leading Yoga Institutes to come under a common roof, promote Yoga to the masses and bring about a mass revolution of healthy living and fitness. These free sessions were well attended by thousands of Mumbaikars, other parts of Maharashtra and various states of India.
Day 1
Mr. Sandeep Yederi, President of SMKYF, a yoga, meditation teacher and student of H.H. Dr. Sadguru Yogiraj Sri Sri Mangeshda, started the first session on 24th morning with 'Introduction to Kriya Yoga and its benefits'. Despite a working day, morning session, the hall was jam packed with yoga enthusiasts. Sandeep provided all information on Kriya Yoga, its history, its relevance in today's world, its rarity and how lucky we all are that this rich, ancient yet scientific path to self realization is still available to all householders like us, as we have amongst us H.H. Dr. Sadguru Yogiraj Sri Sri Mangeshda, a direct disciple of the legendary Param Guru H.H. Sadguru Mahavtar Babaji. It was also announced that Dr. Sadguru Mangeshdaji himself would be conducting the next day's session on Kriya Yoga and its health benefits.
Image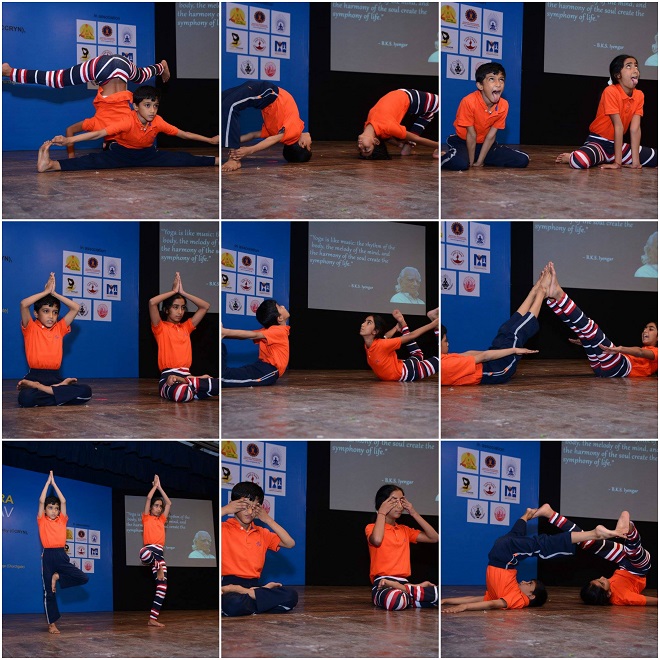 The next session of SMKYF was the very unique ballet of 'Yes I Can, Yes We Can' led by the very young, very flexible and talented sister brother combination of Mahima and Shubham, who performed 32 asans in only 4 minutes in front of a jam pack auditorium and was liked by everyone. This ballet has been choreographed by Sadguruji himself. They were ably supported by seniors of the Foundation. The main objective of the ballet is to show to the world that, if yoga is correctly taught to children from a very young age, it helps in their overall mental and physical development. It leans them away from the some of the ills of modern world, ie watching too much TV and constantly playing mobile games. This ballet also demonstrated that Senior citizens, by practising Yoga, remain fit, alert and also young at heart.
Day 2
H.H. Dr. Sadguru Yogiraj Sri Sri Mangeshda, a torch bearer of Kriya Yoga, whose mission is spreading Kriya Yoga the world over through his 93 centres spread across the globe, started his session sharply at 7 am. He explained that punctuality and discipline is the foremost requirement of being a good student of Yoga. HE slowly introduced the spiritual seekers to the basics of Kriya Yoga and explained the benefits of Kriya Yoga Sadhana. HE also removed lots of myths and superstitions regarding Spirituality and in his inimitable, pleasing style kept the jam packed audience spellbound with HIS experience and knowledge. The audience comprising members from various other Yoga Institutions and from different parts of India, were eager to know more on Kriya Yoga. Time being the constrain, the audience was informed of the evening session by Sadguruji on the role of Kriya Yoga in curing the dreaded Diabetes, which was greeted with loud cheer.
For the next event, in front of the jam packed Auditorium, Dr. Sadguru Mangeshdaji was felicitated for his role in teaching Yoga across the globe for the past 49 years. Sadguruji spoke about Cultural Synthesis and how his SMKYF is spreading 'Unconditional Love and Unconditional Forgiveness for world peace' and has been uniting people of all races, religions. HE mentioned that the only way to live and enjoy our precious life is to live in harmony, give back to society and help mankind.
Before the evening session 'Cure Diabetes through Kriya Yoga' started, Dr. Sadguru Mangeshdaji was interviewed by various electronic and print media.
Diabetes, often referred to as the Silent killer, is the major cause of deaths in India. So, when Dr. Sadguru Mangeshdaji, an expert in various fields, started his session and gave valuable tips, information, remedies to tackle and get rid of Diabetes and lead a healthy lifestyle, it led to a very interactive session with lots of questions for which solutions were provided by Sadguruji. Videos from across the globe, were shown of persons who had been cured from Diabetes, by strictly practising what had been advised by Sadguruji.
Image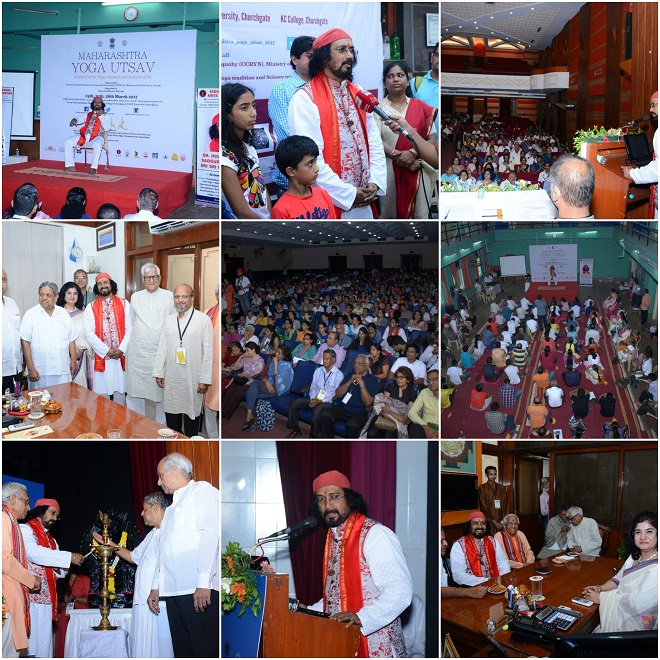 Day 3
Due to an overwhelming response, Sadguruji conducted a similar session on Diabetes and other major diseases on 26th morning also. All those who attended these sessions of Sadguruji, took back with them valuable information and remedies to cure Diabetes and other illnesses. Sadguruji mentioned that there is no shortcut to cure diseases, but with a healthy life style change, by daily practising the correct asans, pranayams, meditation, eating right, proper rest and timely medical check-ups, most of the diseases can be conquered and India can then become a healthy nation, a mission he is very dedicated and working very hard.
On 26th afternoon, the Maharashtra Yoga Utsav culminated with a Valedictory function attended by dignitaries from various walks of life. Dr. Sadguru Mangeshdaji, in his welcome address thanked CCRYN, Ayush Ministry for their initiative in arranging this mega event attended by thousands of yoga lovers who had come from across India. He also thanked Mr. O P. Tiwari of Kaivalyadham Institute and Mr. Subodh Tiwari for their valuable efforts. Sadguruji hopes that with the success of this mega event which has become a Mahotsav, proper recognition will be given by the Govt. of Maharashtra in promoting Yoga and that a similar, but bigger event, will also be held next year, thereby uniting all Yoga Institutes, Yoga practitioners and promoting health and fitness not only across Maharashtra but also across India and the entire world. This is also a focal point of our Honourable Prime Minister of India Mr. Narendra Modiji, who through his visionary idea, announced 21st June as 'International Day of Yoga', which in a very short time has spread Yoga all across the world and made us all very proud.