Kriyasheel Global Awards
Image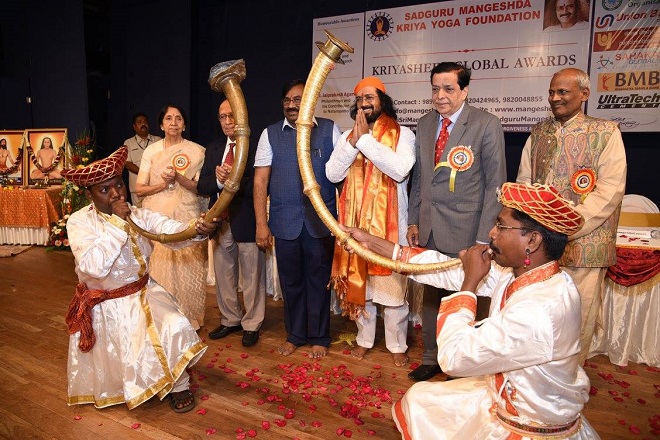 As narrated by Kriyaban Shri Hrishikesh Ambaye:
One look at the luminaries present on the dais and the festive spirit of Dussehra & Diwali became evident. These were the people who have dazzled the world with the brilliance of their invaluable contribution in their chosen field of work. The occasion was the award ceremony of 'Kriyasheel Global Awards 2015' organized by our Sadguru Mangeshda Kriya Yoga Foundation at Swatantryaveer Savarkar Smarak Hall, Shivaji Park, Mumbai today. These awards are presented each year on the 24th Oct as an opportunity to celebrate His Holiness Sadguru Yogiraj Sri Sri Mangeshda's birthday and the Foundations anniversary. The award aims to recognize those who have made a difference in the society through their exemplary work.
This year the award was presented at the hands of Sadguru Mangeshda to Padma Shri Dr. Indira Hinduja - World renowned gynaecologist, obstetrician & infertility specialist for her valuable contribution to Medicine Science & medical research and Shri Jaiprakash Agarwal – Philanthropist & Chairman Surya Foundation for his valuable contribution in the field of Naturopathy.
Image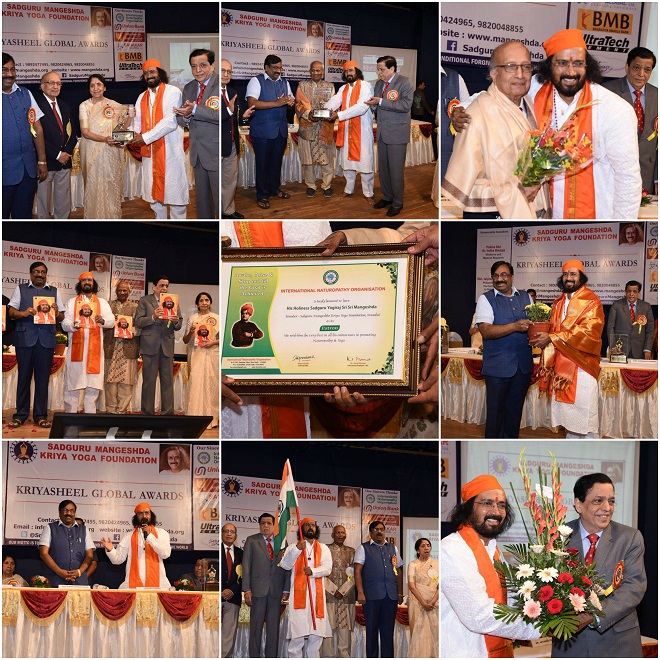 Param Pujya Sadguru Mangeshda while speaking at the function commended their work and mentioned that "All these awardees have done exemplary work in their chosen fields and left an impressionable example for others to follow. We give importance to action in Kriya Yoga due to which there is a special corner in my heart for these Karma Yogis who have championed their cause by their tireless efforts and have fulfilled their social responsibility." He further stated that nature and the five elements teach us a lot and we should be receptive to it. Unconditional Love & Unconditional Forgiveness starts from a little baby as well as from the nature. He advised all to take care of the divine human body which indeed is a gift and miracle. A healthy mind & body can do miracles & spread positive thoughts. He also mentioned that all the "pathy"s like allopathy or naturopathy lead you to be healthy and sound. And one has to balance the same. Sadguru Mangeshda, who has very recently been awarded with Indo Vietnam Health Award also reiterated his vision of a healthy India. One felt that Guruji goes on for some time more as He was in fabulous flow.
Both the award recipients in their short speeches honoured and praised Sadguru Mangeshda's work and extended their good wishes and support for all his endeavours. They all said that the motto of the Foundation and Sadguru Mangeshda – 'Unconditional Love & Unconditional Forgiveness' is the need of the hour and we need Guru, Guide & positive people like Sadguru Mangeshda whose base of all actions is pure love & unconditional work. Sadguru Mangeshda also teaches, preaches & shows by example as to how one can be Sansari & still do Spiritual Progress. The morning which started with the recital of our national anthem was also graced by the august presence of Hon. Minister for Finance, Planning & Forests – Maharashtra State – Shri Sudhir Mungantiwar & renowned Surgeon Dr. V N Shrikhande and Former Sheriff of Mumbai Dr. Jagannathrao Hegde to mention a few and other dignitaries from varied fields.
Hon. Minister Shri Mungantiwar's speech won the hearts of the audience. He specifically said, "Its a brilliant concept to celebrate your birthday with appreciating people who have done a noble work for the society as it spreads a lot of positivity. " He further said that in the current turbulent times, if someone can come to the rescue of the mankind, it has to be KRIYA YOGA & GURUs like Sadguru Mangeshda who teach how to control your brain through the practice of Kriya Yoga. He also mentioned that our country, our culture & personalities like Sadguru Mangeshda have the capacity to lead the world to positivity. He congratulated both the awardees for their contribution to the Society.
Dr V N Shrikhande said in his speech that "It's the negative mindset that is causing problem everywhere. We need people who spread positivity & Sadguru Mangeshda is doing that exactly. I am a very optimist person & I adore personalities like Mangeshda who is always active." On this occasion, he presented Sadguru Mangeshda with two books written by him.
Sadguruji was also felicitated by Kriyabans who had come specially from Karimnagar, Warangal, Hyderabad. For this special day, Kriyabans travel from across globe to wish Sadguruji on His birthday.
Foundation's in-house magazine, The Awakening's – 17th Anniversary Issue was also inaugurated at this time. After the award ceremony, the atmosphere was further enlivened by Team of Megh Malhar, when they took to the stage with their gifted voice and enthralled the audience.
The event was compeered by Shri Sandeep Pandya and the vote of thanks expressed by the Foundations secretary Shri Prakash Irde.