An Outing In The Rains
Image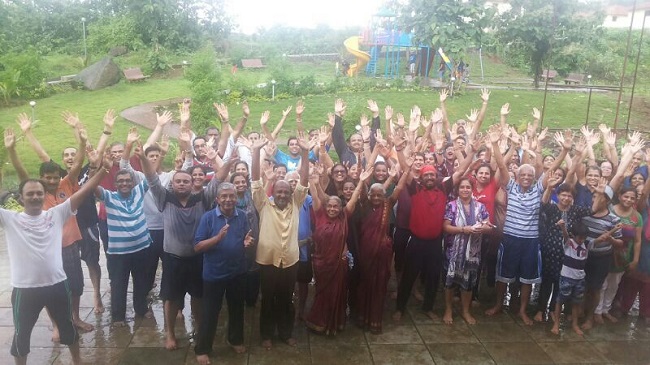 Summarization of event by Kriyaban Shri Hrishikesh Ambaye
When was the last time you DELIBERATELY got wet in rains? When was the last time you did any tree plantation or played in the mud? Many would answer "In my child hood or 15 years back or I never did it. Main beemar padunga to ??" But all these things we actually did in our Foundation's Annual Varsha Sahal.
What a wonderful day it was!! A varsha sahal in the true sense! It was raining all day through... and one could not have asked for more. Rains, lush green surroundings, a walk in the pouring rains, rain dance, couple dance, plantation, shramdaan, meditation on the bank of a river, Baarish aur pakoude, Antakshari, anecdotes.. and to top it all, a wonderful, wonderful rain meditation. Thank You Guruji for all this!
It's a once in a year event... the Varsha Sahal! And our Village carries a very different out of the world look in monsoon. I am sure all those present would agree to this. The few pictures posted will give you some idea as to what we 'experienced'!
Thank You Guruji for arranging this special event from Your busy schedule. Many participants felt that they were back to their school days. A few said that they have been coming for the Varsha Sahal for past few years, but the amount of rain that they experienced yesterday was just amazing. The Superlative meditation sessions conducted by Guruji were truly awesome.
People from many parts of India as well as from Dubai, Abu Dhabi, Indonesia and from many other places had come especially for this event. And they had an amazing time. Everybody was totally recharged and rejuvenated.
Sadguruji also inaugurated a few of the new row houses which are now ready for staying with all amenities. Each and every time we visit the village, we experience a new development.
I may go on & write many things, but the experience which everybody had, cannot be put in words. Sadguruji has His own way of teaching in each and every session and yesterday was no different.
Technology helps a lot. Many of the family members had captured these special moments in their camera or cell phone. And when they will share it, watching those photos itself would give so much of happiness & joy. Jai Ho!
Parting is always tough & difficult. And exactly these were the feelings of everybody when they left from OUR SPIRITUAL VILLAGE. The journey started back from 'greenery and divinity' to the concrete jungle... but be assured... everyone carried back ample of colour green in their hearts and lots and lots of sweet and joyous memories blessed by Him.