Stress Management for Women
Image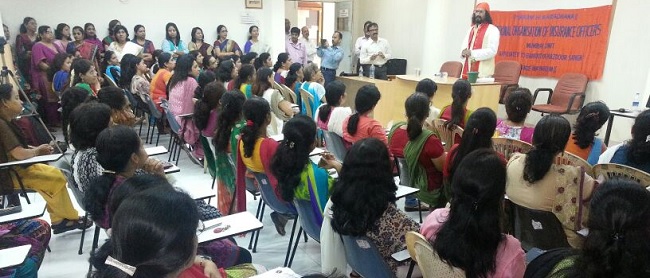 Hari om! In today's scenario when the rise in the negative forces are creating havoc against the Women clan, here comes the Big Bang Force of Positive energy in the shape of a Social crusader, a true visionary, The Great Himalayan Kriya Yogi, Revered "Sadguru Yogiraj Sri Sri Mangeshda" who ought to empower the women against rising force of negativity.
First in the list of Women Empowerment was the Self Defence week for Women on the eve of Dusshera, in Oct. 2013, then came the brake on his positive mission, with a serious life threatening health scare that put him off gear for over 5 months..but negativity never knew, the intensity of the force of the BIG BANG, that created life on earth..So with full vigour and double the strength of the BIG BANG, Sadguruji has bounced back once again with his most powerful weapon of LOVE ENERGY. He took his first big seminar, today, 7th March 2014, after a gap of 5 months, once again for the welfare and self empowerment of WOMEN.
An awesome, inspiring and power packed stress management seminar by our Revered Sadguruji, took shape today at the largest life insurance company "LIC of India" on the eve of International Women's Day. Each of the lucky ones present there were witness to the divine charisma of Sadguruji, which left everyone spell bound and longing for more. What was supposed to be a 45 min seminar, kept stretching to over two hours and the audience were showing no signs of moving out of the seminar hall. A hall that can accommodate not more than 150 people was packed with close to 400 people.
Sadguruji connected with the entire audience in the first two minutes of the seminar when he related to the daily chores and time bound challenges faced by a woman with complete empathy and understanding and then in his unique style enthralled the audience with his impeccable sense of simple meaningful humor and anecdots that gripped the participants, leaving them spell bound, and thinking that, can stress be managed so easily and with so much of simplicity and fun.
Now the largest insurer in the country can be rest assured that their employees have been empowered with the secret of quick fix stress management techniques, there by Ensuring to Insure the country with a stress free woman team, add more value & smiles to their customers, thereby create a more efficient organization to out number their competitors with an even more monopolistic marketshare.
Thank you very much Sadguruji for thy mesmerising style of teaching, that stays etched in mind for ever..and bridging the gap between the science of Kriya Yoga Teachings and simple to practise stress management techniques for every one.