Self Defense For Women
Image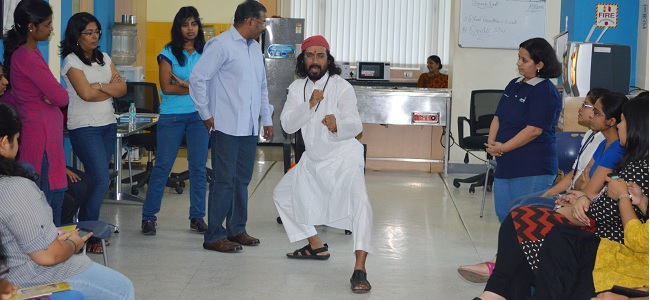 Sadguru Yogiraj Sri Sri Mangeshda conducted a workshop for the women employees of Emerson Process Management, Powai, Mumbai on 14th March.
This was a corporate workshop for working women.
The workshop was well organised by the ladies and particularly the HR dept of Emerson. It started with Sadguruji asking the participants to say ' Good morning ' and the sweet and melodious yet feeble response made Sadguruji drive home the first lesson in self defense - the use of voice as a crucial weapon. He demonstrated that in this ' Fight and Flight ' method of self defense, a weak voice is generally attributed to a weak personality and people take advantage of this. He highlighted that in India right from a young age women are always asked to keep their voice low and suppress all emotions. He said that it was now time to come out of this trap and express yourself. He demonstrated that shouting and screaming at the right time is not a sign of weakness but it may sometimes save life and dignity.
Then came the use of physical activity. As Sadguruji is a black belt in Karate, He demonstrated the use of fist, knuckle, various kicks and throws, lethal punches and Slaps. He demonstrated that simple slaps used effectively can cause a great injury to the intruder. He demonstrated the use of fingers and nails in close combat and how one can momentarily imbalance the opponent. ...time enough to escape and look for help. He explained that offense is always a good defense but quickly escaping from the situation is also a smart option. He asked the participants to perform in groups to get an almost real time experience. It was a treat to watch this session.
He taught how to defend oneself in a group fury. The demo on the fight against weapons, like knives, brought in a lot of cheers from the ladies. The use of energy was clearly demonstrated and He advised the group to practise Yoga on a daily basis to keep fit and healthy. He also taught how to increase the strength of the mind and the alertness of the five sense organs, in day to day life, to sense the danger lurking. He explained that offense is the best defense but the best way is to escape from the situation smartly and seek additional help.
The workshop was conducted with simplicity, practicality, anecdotes and full of humour! It was as in corporate lingo ' Learning with Fun!'
He also informed the participants of self defence gadgets available in the market and how to use them for self defense. The option of keeping simple home remedies handy in their carry bag was also discussed.
Thank you Sadguruji for such a great and interactive workshop. We really had a great time learning.
Overall Sadguruji made the ladies realise that the hand which rocks the cradle can also break a few ribs and smash a skull when need arises!!
Sadguru Mangeshda Kriya Yoga Foundation specially thank Ms. Payal, Ms. Saloni, Ms. Priya and Ms. Sonalini of Emerson for arranging this workshop and giving their colleagues a chance to participate in it.
As told by Kriyaban Shri. Hrishikesh Ambaye