Opening of Foundation's 84th Center at North Carolina, USA
Image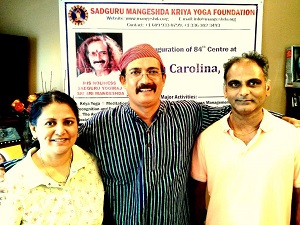 His Holiness Sadguru Yogiraj Sri Sri Mangeshda inaugurated the Foundation's 84th center at North Carolina, USA on 19th Aug 2013.
As reported by Kriyaban Ajoy Kumar from North Carolina, USA:
North Carolina. USA. 84th. Centre, born on the 19th of August 2013 to the Global Family of Sadguru Mangeshda Kriya Yoga Foundation. For the proud parents and Kriyabaans, Aditi and Kashyap joy had no bounds. The city known as the San Fransisco without the mountains, created its highest peak of the science of living by opening this centre. Sadguruji explained birth and death cycles, intuition and vision, relationships, reason and cure for diabetes and high blood pressure and a host of answers to questions raised by all gathered from all walks of life. The unending flow of doubts and problems coming out of stressfull life in the WEST was answered with the base of Unconditional Love and Unconditional Forgiveness from the EAST! This centre will surely provide the required light to mankind in the coming days as a host of activities is planned by the organising team. Welcome to the World. Come Home!