Kriya Yoga Diksha and Camp at Los Angeles, USA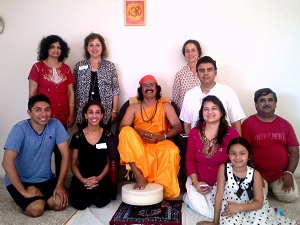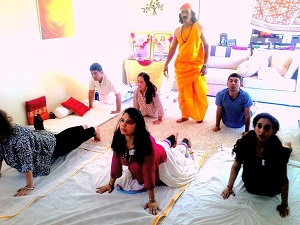 His Holiness Sadguru Yogiraj Sri Sri Mangeshda initiated aspiring disciples and conducted the Kriya Camp at Los Angeles, USA on 31st Aug 2013.
As reported by Kriyaban Ajoy Kumar from Los Angeles, USA:
On the 31st Aug 2013, His Holiness Sadguru Yogiraj Sri Sri Mangeshda gave the pious Kriya Yoga Diksha and conducted the camp. All those who received the pious Kriya Diksha were doctors of various kinds; occupational therapist, speech pathologists, nurse practioner, general physician etc. They all had an eye opening session when Sadguruji started disecting the human body and laid the emphasis on ' what am I ' instead of the general quest of ' who am I' . The five fold path of Kriya Yoga was explained lucidly by Sadguruji and each and every participants carried home rich dividends for taking this bold path.
Excellently organised by Shambhavi, Swanand, Savitha and all members of team LA. Kudos to the hardworking and dedicated team. They ensured that everything was in order and moved on time everytime! The Great Mission now moves on to the next phase......many more stations to cover, many more waiting to board, many more plans of the Universal Energy to unfold! Jai Gurudev.