Inauguration of 85th Center at Toronto, Canada
Image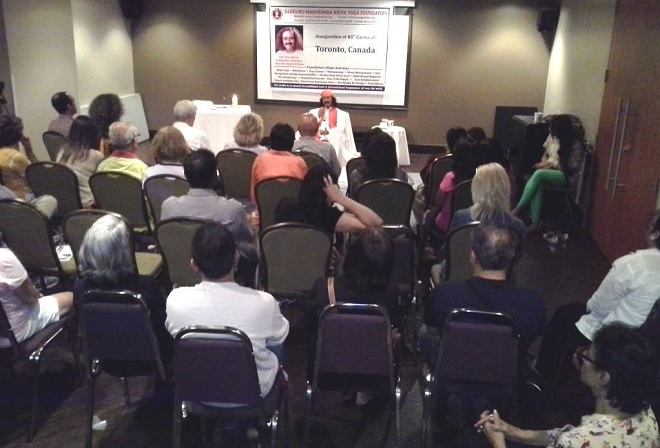 His Holiness Sadguru Yogiraj Sri Sri Mangeshda inaugurated the Foundation's 85th center at Toronto, Canada on 23rd Aug 2013.
As reported by Kriyaban Ajoy Kumar from Toronto, Canada:
Eight and Five, 85....at Harbour Square, Toronto, Canada. His Holiness Sadguru Yogiraj Sri Sri Mangeshda inaugurated this fantabulous centre amidst a super crowd and expectant Kriyabaans. The highlight being the central figure in todays kariyakram.....Super Star of Bollywood and the fireband actor of yesteryear, Ms Tanuja (mother of our own fireband actor and the super star Kajol). Right after the fantastic Kriya lecture by Sadguruji she was one of the first to fill up the Kriya Diksha form!
The coordinators of the centre, Sheena, Deepa, Jayashree and Rohinton has done an excellent job of organising the event. A complete packed house awaited Sadguruji with melodious bhajans being rendered. Sadguruji's lecture will be followed by a meditation session tomorrow, Diksha the day after and a revision on Monday! Sadguruji lit the candle, surrounded by Jayashree and Deepa on his right and Tanuja and Sheena on his left, with a thundering applause from the audience. Very exciting days ahead!!