Kriya Diksha & Workshops - Singapore
Image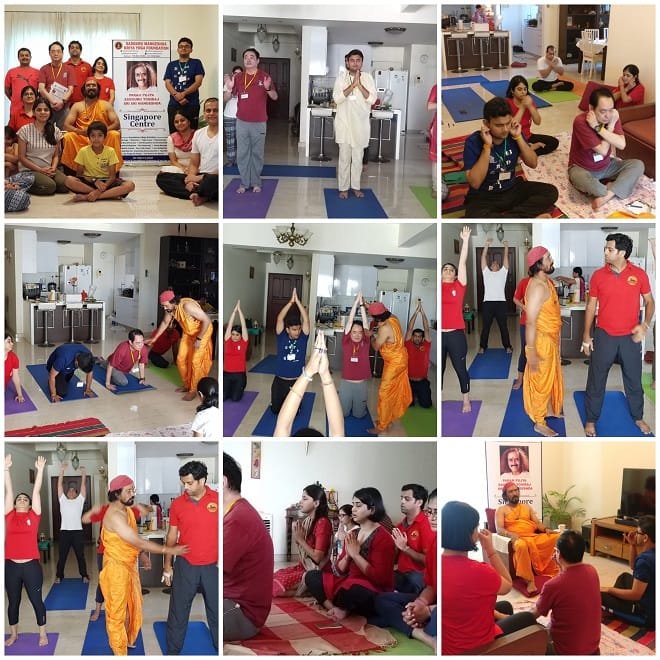 Sharing by Kriyaban Shri Ravindra Pathak from Singapore centre:
Being around Sadguruji is witnessing & practically experiencing many lessons in management first hand. His brief 3 days power-packed visit to Singapore was one such opportunity for Team Singapore to learn this up close and in-person. We learned what it means to Lead by example, maximise utilisation of time, nurture human potential, build teams & relations, importance of commitment & discipline, having objective vision and most importantly, meticulous execution.
Day 1: * The back-to-back marathon sessions started with giving Reiki 3A followed by Reiki Teachership.
Day 2: * Sadguruji emphasised the importance of fitness and challenged us to rise ourselves to it and inspire others. He expressed his wish to see Singapore on the map of International Yoga and gave us many Pro tips and techniques to practice in the advanced yoga class. * Sadguruji also conducted a Kriya Yoga class-in for those who had taken the Diksha during his previous visit and he taught some advanced Kriyas to these dedicated band of Kriyabans.
Day 3: * The highlight was the pious & rare Kriya Yoga Diksha for a chosen few followed by the mandatory Kriya Yoga workshop where the new Kriyabans learned the secret Kriya Yoga techniques directly from Sadguruji.
We didn't realise how the 3 days had whizzed past and as soon as it started, it was time to see Sadguruji off. On our way to the Airport, Sadguruji asked us - What is the mark of a genuine person, how will you recognise one? How should one recognise such a person? we implored him to explain us. To that, Sadguruji expressed the answer in a beautiful couplet - Nadi na piye apna jal, Vriksh na khaye apna phal. Aisa saccha insaan. Meaning: A River doesn't drink its own water, A tree doesn't eat its own fruit. This is the mark of a genuine person. And as we sat contemplating what he had just said, He had moved on in his conversation. What I saw was a genuine person who has selflessly given to humanity and who is spending each valuable moment of his existence dedicated to his mission. This giant tree has given many fruits; the seeds from some of them have become saplings and he is encouraging these saplings to become such fruit giving trees themselves. Hari Om.