Guru Poornima Level 3 Diksha & Mahasatsang
Image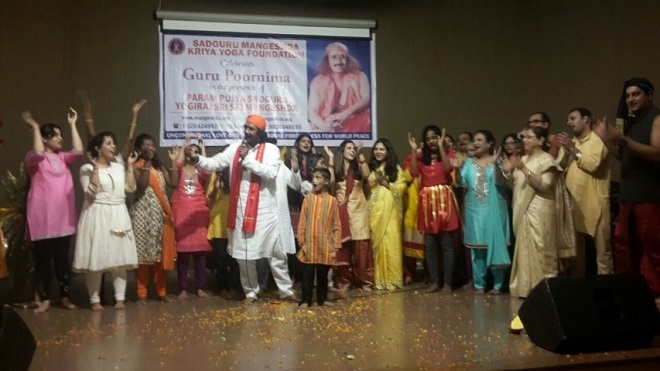 As narrated by Kriyaban Shri Hrishikesh Ambaye
Guru Poornima is always special for all the disciples. A special day for all Shishyas to strengthen their bond of GURU-SHISHYA relationship. The energy on this day can actually be experienced and it just amplifies with the mere 'darshan' of Sadguru Devata.
The morning started with pious Kriya Yoga initiation at the Juhu Centre. A selected few lucky disciples got the rare blessing of level three Kriya Diksha. Those who attended the Havan felt the high energy. Disciples from across India and the Globe had come to take the blessings from our revered Sadguruji.
The evening celebrations took the day to a further high. Melodious Bhajan recitals by our Kriyaban family members set the pious mood. The entire team was superb. Our Kriyaban, Krishna gave an excellent dance performance, depicting his personal traumatic experience and how Kriya Yoga helped him overcome this tough period in his life. Heeraji's nirupan was fabulous as usual.
The next surprise was a beautiful presentation of dance drama, conceptualized, written and directed by Sadguruji himself, in which he depicted the importance of five natural elements. The concept was unique and well executed by all the performers. This has been a usual feature of Sadguru Mangeshda Kriya Yoga Foundation's programmes, where newer & beautiful concepts are presented under Sadguruji's guidance, making it a blissful experience. Here, special mention of our little star Shubham is a must, as he was fighting with negativity in the form of ill health for the past few days, still gave his 100% and performed very well on stage. Bravo Shubham, you are an inspiration. We are really proud of you!!!
After the dance drama, Sadguruji announced the Best Kriyaban award of the year. This award is given by Sadguruji to two of the most deserving disciples. This years award winners were Sunanda Balvally and Sujata Bangera. They were felicitated by Sadguruji amongst thunderous applause from the audience. Our Hearty Congratulations to both of them!
Sadguruji then shared with all his pearls of wisdom. His blissful aashirvachan (discourse) made the Day for all of us. We wished that He would go on and on. Thank You Sadguruji!
Sadguruji's Darshan Sohala was a divine experience to all those present. Melodious Bhajans continued till the evening came to a pause. Prasadam was also distributed to all the disciples. One more feature of this Guru Pournima was, live streaming of the programme across the globe. All the disciples could take advantage of technology & participate in the Guru Pournima Celebrations!
An awesome day of Guru Pournima celebrations was witnessed by us. Sadguruji's blessings & grace made it all happen so smoothly. Thank You Sadguruji from the bottom of our hearts! Kudos to all organisers for a wonderful team effort!