Guru Purnima Mahasatsang & Kriya Yoga Diksha
Image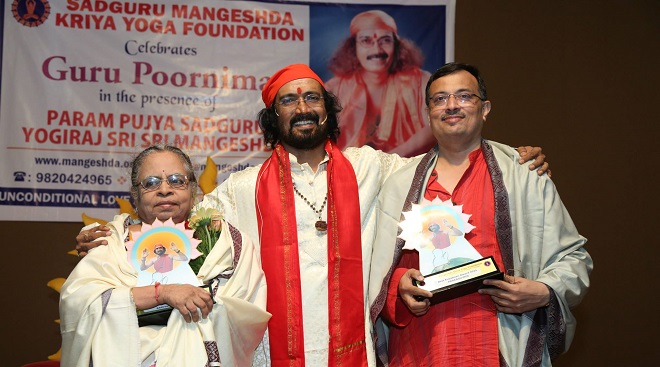 As narrated by Kriyaban Shri Hrishikesh Ambaye:
Guru Poornima is a very special day when you consider Guru-Shishya parampara. All of us are very lucky to be disciples of Himalayan Yogi His Holiness Sadguru Yogiraj Sri Sri Mangeshda. I consider myself very lucky to have attended the GURU POURNIMA CELEBRATIONS this year. Those who witnessed these three hours in Mayor's Hall two days back, were fully recharged with Energy. The joy, the happiness, the energy, the feeling of oneness, the melody, the divinity, the message from a unique skit projecting GURUKUL system... which I am sure all will agree on that pious day; is still there with all. Guru Pournima is always special for all of us...! A special day for all Shishyas to strengthen the bond of GURU SHISHYA relationship. The energy of this day can actually be felt and it just amplifies with mere 'Darshan' of Sadguru Devata.
This time it was no different. The day started and concluded with Darshan of Sadguruji.
The morning started with Pious Kriya Havan. A few lucky disciples got the rare blessing of 3rd level Kriya Diksha. This was after a long gap and congratulations to all the lucky disciples. It is this day when disciples from around the world travel to Mumbai just to be with Sadguruji for a while. Disciples from across the Globe came to the Juhu Centre as well as to the Mayor's Hall in the evening to seek blessings from Revered Sadguruji. Those who attended the Havan felt the high energy in Juhu Centre. Jai Ho.
The evening celebrations took the day to further high. Melodious Bhajan recitals by our Bhajan Mandali made the evening further special. All the singers offered their gratitude towards the GURUTATTVA through their renditions. The Team comprising of Chaitanya Jogaikar, Hemangi, Shaila Pimpalpure did an awesome job & presented melodious swars. Heeraji's nirupan was fabulous as usual.
Just like the International Yoga Day Celebrations on 21st June 2015, Guru Pournima celebrations also had a lot of inputs for the audience. After the bhajan sandhya, it was turn for some dance performance & Kriyaban Kanchan Shah presented a wonderful Ganesh Stavan. It was indeed a classical performance and a unique way to offer gratitude to Guru Tattva.
Sadguruji has always been preaching about Transformation. The little children of our Foundation along with a few other members of the Foundation presented a musical ballet "GURU CHARANAM"! This ballet was entirely conceived & directed by Sadguruji Himself. It depicted how our ancient Gurukul System was, how it helped nurture young souls! And it also showcased the current era where the importance of Guru Shishya Parampara is still there! The times have changed, the surroundings might have changed, but the basic concept of GURU TATTVA remains the same. This rich ancient Indian tradition has it all to turn a person into a complete human being. The performance was so wonderful that the little angels and all the performers won the hearts of all. Special mention of Dear Shubham is a must here. He was suffering from a very high temperature on the previous day & yet, he came performed his role flawlessly & kept his commitment. He is truly on the footsteps of his father & there is a lot to learn from this young wonder. Hats off to you Shubham! Bravo!!
When Sadguruji arrived on stage for His aashirvachan, He was felicitated by Saraswathi Vasudevan and Dr. Vasudevan. Devotees who had especially come from abroad and other parts of India performed the paad-poojan, a moment which all of them will cherish forever.
Everybody was eagerly waiting for Sadguruji's aashirvachan. His blissful aashirvachan made the day for all of us. In the very beginning He offered His salutation to GURU TATTVA! He talked about the ancient system of Gurukul. How it is of use & importance in today's world! He also offered His gratitude to His Parents, His Sadguruji on this Pious Day of Guru Pournima. He remarked that He learned something from everybody and from all interactions. He stressed that all disciples are the same & equal for a Guru & but its upto the disciples as to how they accept Guru's teachings & ego proves to be a big hurdle. He stated that NATURE is also a big teacher. One can learn many things from Nature. He narrated some experiences from His life, He also explained about the oneness… especially the one witnessed in the VARI OF PANDHARI.
Sadguruji also remembered our Ex-President Dr A P J Abdul Kalam who had just passed away and offered tributes to him. He mentioned that India has lost a great human being and a wonderful teacher!
He also mentioned that the real enemies of a person are within himself and one needs to tackle the Avagunas of Kaam Krodha Mad Matsar Moha. He also appealed everyone to convert one's foes into friends & if that is achieved, that will be a great GURU DAKSHINA for Him.
Its difficult to summarize here what He spoke on that special day. But these are some of the key points. We wished that He goes on for some more time and some more time...! Thank You Sadguruji!
Then everyone was also waiting for Sadguruji's declaration about Best Disciples' Award. This is indeed one of the best moments to witness in the year. Sadguruji gave these awards to PRAKSH IRDE and RADHIKA YEDERI. Both deserved it the most. They were felicitated by Sadguruji amongst thunderous applause from the audience. Congratulations PRAKASH & RADHIKAJI! Lots of things to learn from you.
Dr Kumud Joshi, Mumbai President of INO(International Naturopathy Organization) as well as Shri Kishor Cheulkar from Mumbai Doordarshan attended these celebrations. Both these eminent personalities were felicitated at the hands of Sadguruji. Both of them applauded Sadguruji's work & untiring efforts of building a healthy society. Sadguruji also felicitated Shri Kishore Hinduja for his selfless service to the Foundation for last so many years. Thank you Kishoreji for your invaluable contribution.
Sadguruji's Darshan Sohala made the evening more divine for all those present. Prasadam was also distributed to all the disciples. A special mention of ANDHERI CENTRE here who prepared this Prasadam! While the Darshan Sohala was going on, the bhajan mandali presented wonderful bhajans & it was a real treat to listen to those soulful performances. Thank you Archana, Sandeep, Maa Tejomayee, Sanjay, Bhagyashree, Urmila, Kanu, Sandip Pandya and Radhikaji. Jai ho.
An awesome day of Guru Pournima celebrations was witnessed on that day by many. Sadguruji's blessings & grace made it all happen so smoothly. Thank You Guruji from the bottom of our hearts. Pranams to You! Kudos to all organisers for a wonderful team effort, special mention of Archana Mangalore, Rajeev Raval & Vaishali Yederi is a must here, ably supported by all. The backstage team also did a great job. These kind of special days and cherishable moments make GURU POURNIMA CELEBRATIONS a very very lovable day. Looking eagerly to next program which I am sure will reach newer heights.