Foundations Annual Day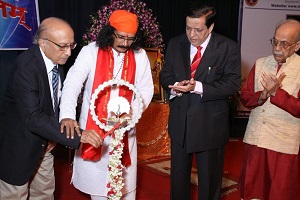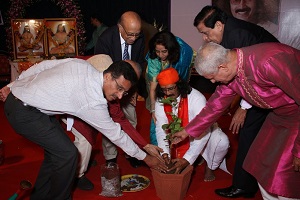 Sadguru Mangeshda Kriya Yoga Foundation celebrated its Annual Day in a grand style at Mumbai on 24th Oct 2013.
Yet another blissful 24th October...! Divine atmosphere, a jam packed audience from all over (USA, UK, Hyderabad, Delhi, Bangalore, Pune etc) wonderful orators, soulful music, one new book, one new Gyan Amrut audio CD, THE AWAKENING!, Vedic Mantrochcharan... and to top it all... Sadguruji's aashirvachan! What more can you ask for in an evening of 3 hours!
It was pious, serene to be in Pu La Deshpande Auditorium. Wonderful speeches given by the chief guest Dr. Shrikhande and guests of honour, Dr. Hegde, & Pt. Yashwant Deo. The holy ceremony of Guru Poojan made the atmosphere more divine. Sadguruji's aashirvachan was icing on the cake...Sadguruji did a TREE PLANTATION on his birthday... a wonderful way to celebrate birthday rather than cutting the cake.
Kriyaban Chandrakant Baraskar had written a wonderful 'MAANPATRA' for Guruji echoing sentiments of all the Kriyabans. A frame of the same was presented to Sadguruji along with a wonderful gift.
Every speaker talked highly about Sadguruji and his various activities.
The evening came to a pause after a wonderful musical program where we witnessed a rare combination of Tabla, Jaltarang & Violin. It was Sheer class.