Foundation's 23rd Annual Day & Kriyasheel Global Awards
Image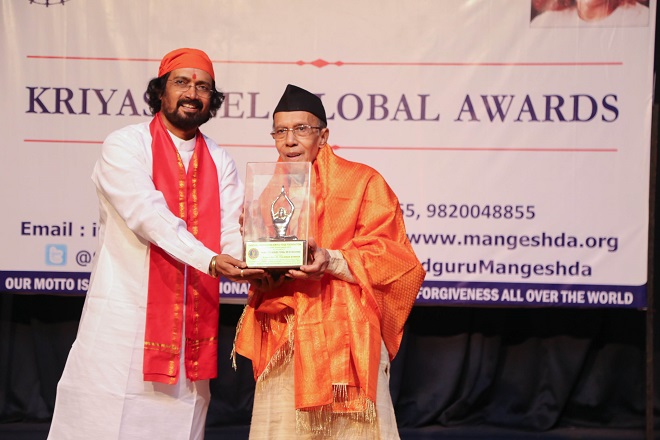 As narrated by Kriyaban Shri Hrishikesh Ambaye
On 24th October 2016, Sadguru Mangeshda Kriya Yoga Foundation had double celebration of our beloved Sadguruji's Birthday and Foundation's 'Annual Day'. This was Foundation's 23rd Annual Day and was celebrated with loads of enthusiasm. The function was held at P. L. Deshpande Auditorium, Ravindra Natya Mandir, Prabhadevi from 8 pm onwards.
It has been our practice for the last several years to observe this day of double celebration on 24th October. Our Foundation honours distinguished personalities who have made an outstanding contribution to the society in their respective fields, by presenting 'Kriyasheel Global Awards'. Sadguruji, in his unique ways of teaching, brings forward the inspirational journey of persons from ordinary to the extraordinary! This year the award was bestowed on Padma Shri Pt. Tulsidas Borkarji, an eminent, world- renowned Indian Classical Musician and one of the greatest exponents of the Harmonium. Panditji is known for playing the instrument solo and his style of accompanying in Hindustani Raga Sangeet and allied forms. He was awarded the Kriyasheel Global Award for his tremendous contribution in the field of Indian Classical Music.
Our Kriyaban, Sandip Pandyaji, first welcomed everybody and gave a brief account of the programme that would follow. Shortly, all the dignitaries arrived. Sadguruji lit a lamp near the photo of our Param Guruji Sri Sri Mahavatar Babaji and invoked His blessings. Thereafter, Sadguruji and all the dignitaries lit the customary lamp on the dais. This was followed by the rendering of the National Anthem. The dignitaries occupied their seats in the audience.
Image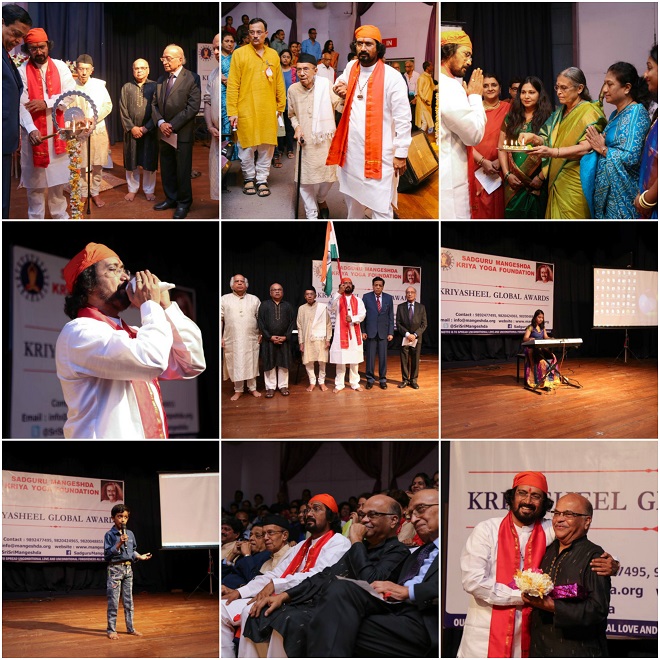 In a novel way, the evening started with performance of our Kriyaban Janhavi (age 13 yrs) who gave a beautiful demonstration of her western musical abilities on keyboard. She was confident as well as authentic in her performance. Her musical presentation gave the perfect start to the evening.
Next, it was the turn of little darling Shubham who performed an award-winning mono-act which he had performed in his school and it gave a wonderful message of not to refuse to eat any food if it is not to our liking and not waste any food. He was fabulous in his presentation. Just in the morning, Shubham had a severe Asthama Attack and was under treatment but he performed and made the audience laugh with humorous skit. It proved yet again that he is a fighter and walks on the footsteps of his illustrious father. Jai ho!
Sandipji then wished Sadguruji on his birthday and gave a brief account of His life as to how, born as a 9th child in a household of humble means, his rebellious nature questioning blind faith and rituals which led him to leaving his home, his meeting his Guru and his subsequent spiritual journey. He specially mentioned that Revered Sadguruji has been practicing and spreading Yoga for the past 48 years. Thereafter, there was an interesting and informative audio-visual presentation of montage highlighting various social activities undertaken by the Foundation.
The Chief Guest for the programme was renowned Music Composer Shri. Ashok Patkiji, a well known personality in the field of Music. The Guests of Honour included Dr. V. N. Shrikhande, Dr. Jagannathrao Hegde, Shri Suresh Narang & many others from various fields. All the dignitaries were felicitated by revered Sadguruji.
Image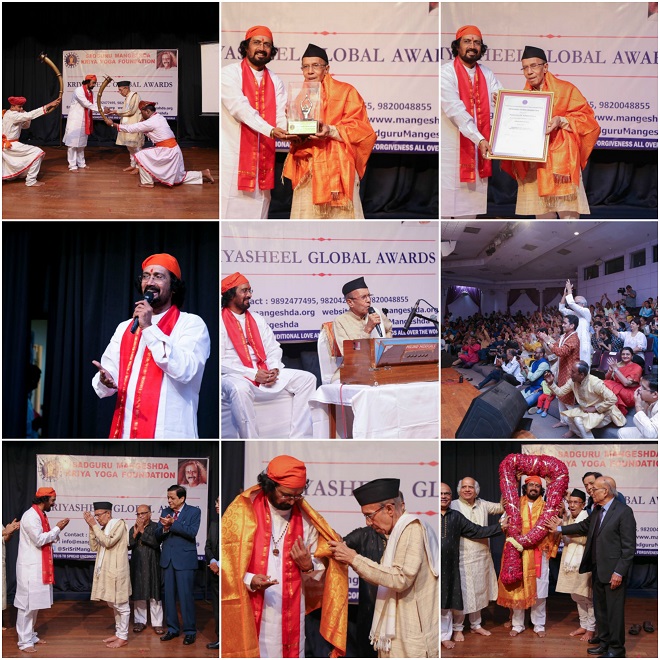 Dr. V. N. Shrikhande regaled the audience with his witty speech. He appealed that we should purposefully try to maintain inter-personal relations and personal touch in this era of virtual things and artificial brightness – symbolically saying that we should learn to preserve and value our culture against the onslaught of modern glamour. He also praised Sadguruji for the noble work He is doing and commended the Social Activities of the Foundation.
Before presenting the Kriyasheel Global Award 2016 to Padma Shri Pandit Tulsidas Borkarji, Sandipji gave a brief introduction of Panditji followed by video clippings which depicted the greatness of this legend. Sadguruji honoured Panditji with Kriyasheel Global Award 2016. Panditji was given a standing ovation.
In his speech, Panditji mentioned about his early days of life and he talked about his Gurus and the legends to whom he met. He stressed that he still was a student and his sadhana is still going on! He expressed his gratitude towards Sadguruji and mentioned that he was really humbled by the way he was treated, greeted and felicitated by Sadguruji. He was overwhelmed by love and adoration he received. A man of few words as he is, he preferred to talk through his Harmonium and just in few seconds, he mesmerized the audience with his skills! It was great to see the legend perform. All present in the auditorium consider themselves lucky and blessed. Pandit Borkarji is down to earth, simple, unassuming legend with total dedication towards his instrument - Harmonium and his enthusiasm and love for music! He is an example for us to emulate for achieving our goals in life.
Then came the moment which everyone was waiting for, Sadguruji's felicitation and His speech!! Sadguruji was felicitated by all the Guests and it was a wonderful sight. He was presented with a special garland & a gift as a small token of love from all the Kriyabans.
In his address, Sadguruji lauded the contribution of Padma Shri Pandit Tulsidas Borkarji and exhorted people of this great country to follow his footsteps. He talked about His experiences with all the dignitaries & also narrated their special qualities. He remarked that Dr. Shrikhande apart from being a successful doctor is also a very good writer and he has written a famous book "Ani Don Haat". A rare quality for a surgeon where he touches the hearts of readers with his writing skills as also he gave life to many a people with the same hands. About Pandit Borkarji, He mentioned that here is an artiste who plays on the limited area of a harmonium and with the help of music & melody breaks those limitations and touches the soul of people with his mesmerizing fingers. He also joined Panditji in saying that He is also a good student & He does His sadhana regularly. He also talked briefly about his illness and how He came out of it. He talked about His mountaineering experiences & the learnings from it. It was indeed our privilege to listen to the motivational and intellectually stimulating speeches.
Our Sadguruji and the other dignitaries present, released the 18th Anniversary Issue of our popular International Magazine, 'The Awakening!'. After a small break, it was the time to enjoy the melodious instrumental musical performance of Shri Manas Kumar (Violin) & his troupe. They showcased their musical abilities with great artistry & it was such a joy to listen to the various compositions which included Arabic music, fusion & film songs. The musical show was aptly named as SWARANAND as this mehefil gave lots of Anand to the audience. Sadguruji felicitated all the performers and highly appreciated their skills. The programme ended with a vote of thanks by the Secretary of Foundation, Mr. Prakash Irde.
Image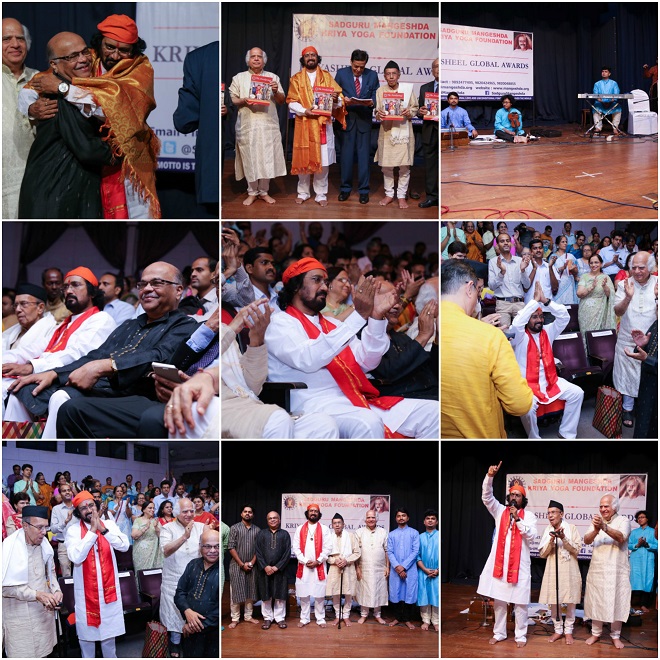 What an evening it was! The entire auditorium was spellbound; listening with rapt attention to the speakers and performers! Every year the celebrations become a unique memory & the joy we get from those special moments is just priceless! The show was houseful with hardly any space to sit & people occupying their seats on the staircase… in fact wherever there was vacant space in the auditorium.
The Deepawali is just round the corner, but for those present in P. L. Deshpande Auditorium, the Deepawali has started already and we can perhaps rephrase it to 'Swar-Deepavali'! Jai ho!