Kriya Yoga Lecture & Special Meditation Session at Toronto, Canada
Image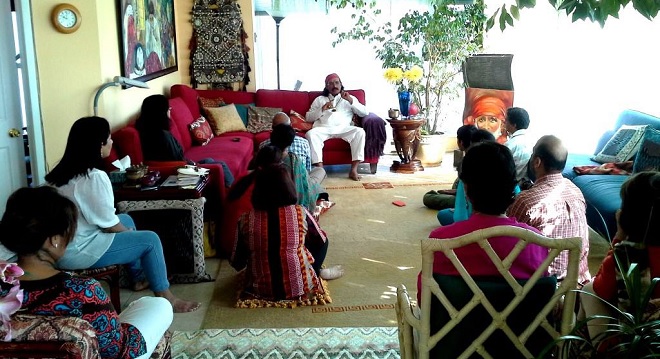 His Holiness Sadguru Yogiraj Sri Sri Mangeshda gave a lecture on Kriya Yoga and held a special Meditation session at Toronto, Canada on 23rd Aug 2013.
As reported by Kriyaban Ajoy Kumar from Toronto, Canada:
Meditation.....The elixir for numerous ailments and deceases.......and when it is a special session it always touches the soul!! His Holiness Sadguru Yogiraj Sri Sri Mangeshda held a special session on meditation after the participants requested for one after the great Kriya Yoga lecture yesterday. The location was so appropiate...a penthouse mansion on the 39th floor in the Harbour Square over looking the lake Ontario, Toronto, Canada. Participants were just mesmerised! Sadguruji took a two hour session and taught so many special meditation techniques. The best was on the each sense organs starting with the sound, and then on to rhythm, fragnance, golden light and a new one called the Purification! A new musical instrument called the Tropical rain forest sounding Bamboo was used! Onto the big Kriya Diksha Day tomorrow! Bold and Lucky participants, making their foundation stronger and hence making our Foundation strongest!! May the process keep on rolling!! Sadguruji in full flow! 'Full' I say!