Kriya Yoga Initiation & Camp at New York, USA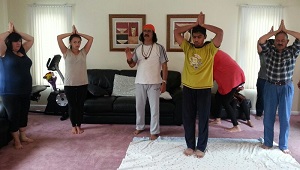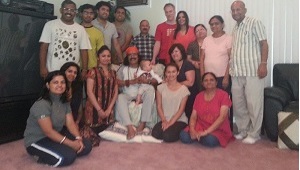 His Holiness Sadguru Yogiraj Sri Sri Mangeshda initiated aspiring disciples at Long Island, New York, USA on the 18th Aug 2013.
As reported by Kriyaban Ajoy Kumar from New York, USA:
Long Island, NewYork. Sadguru Mangeshda returned to the US as promised and on the 18th of August 2013 gave the pious, simple,scientific and most powerfull Kriya Yoga Diksha to some of the most deserving aspirants. Zarna, Amogh, Surya, Chaitanya, Chetan, Jason, Ellen and Selena is the circle of light around The Light! It was such a delight to see that now international youth is understanding the value of Kriya Yoga and taking the bold step. All credit to Sadguruji for the tireless effort He is putting in making the world a healthy and peaceful place.
Thanks to the organisers in Kirit Trivedi and Pratima Trivedi, such wonderful souls who has organised the program in such a short time and helping the Foundation become stronger and stronger. May their tribe increase in multiples! Amen! And for Max ..... the chotu in Sadguruji's lap .....is a cotten ball of delight....this is his second diksha darshan in just six months of his life! Yeah yeah he is a very lucky soul .....for that matter whoever comes into Sadguruji's arms is always a lucky soul...he or she just has to come thats all!!!